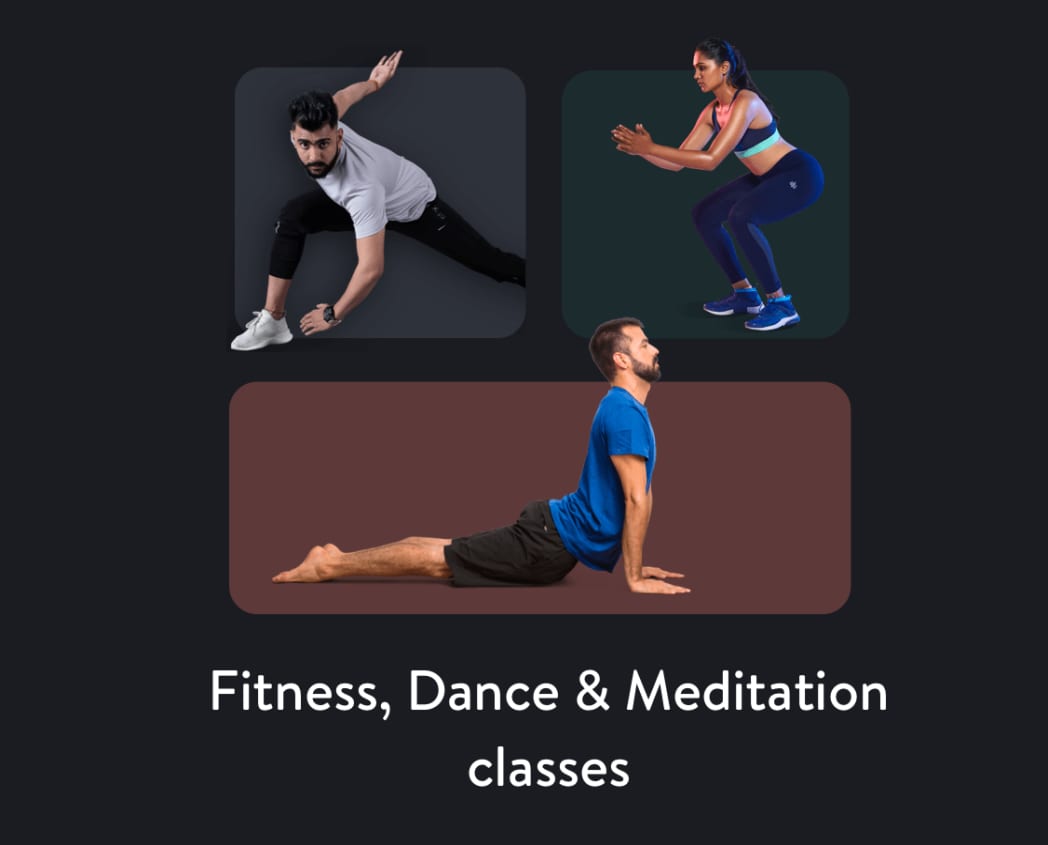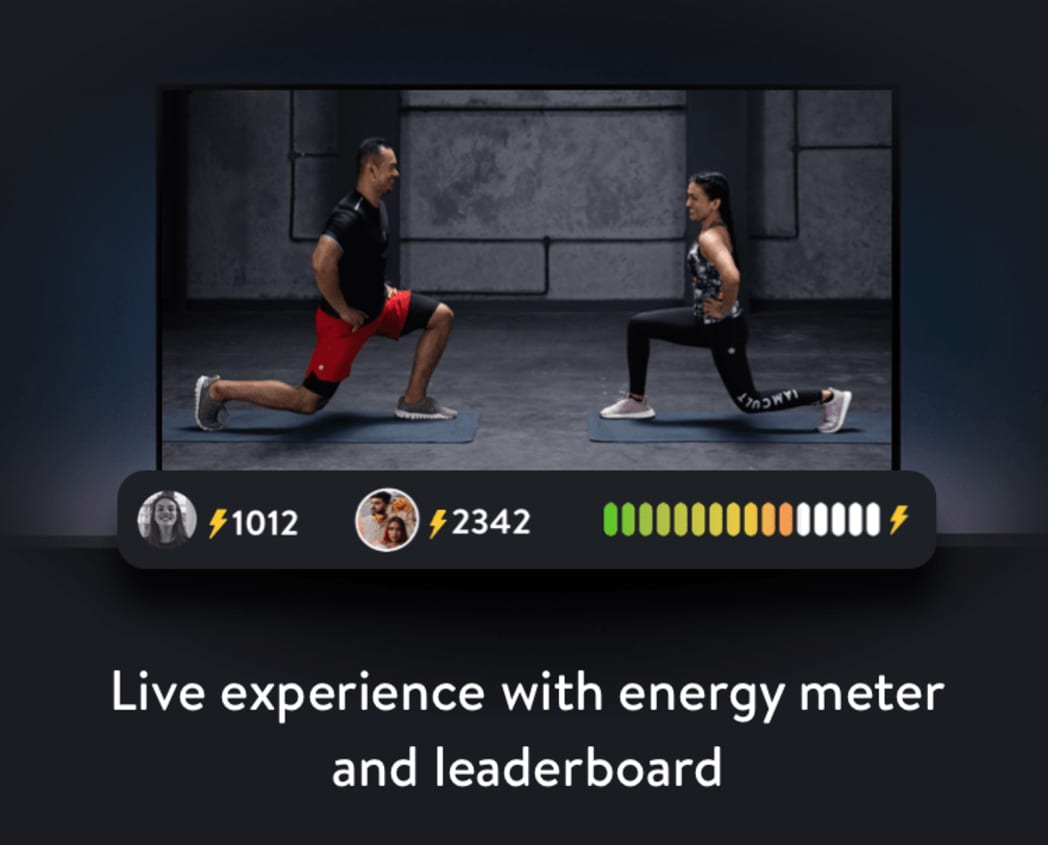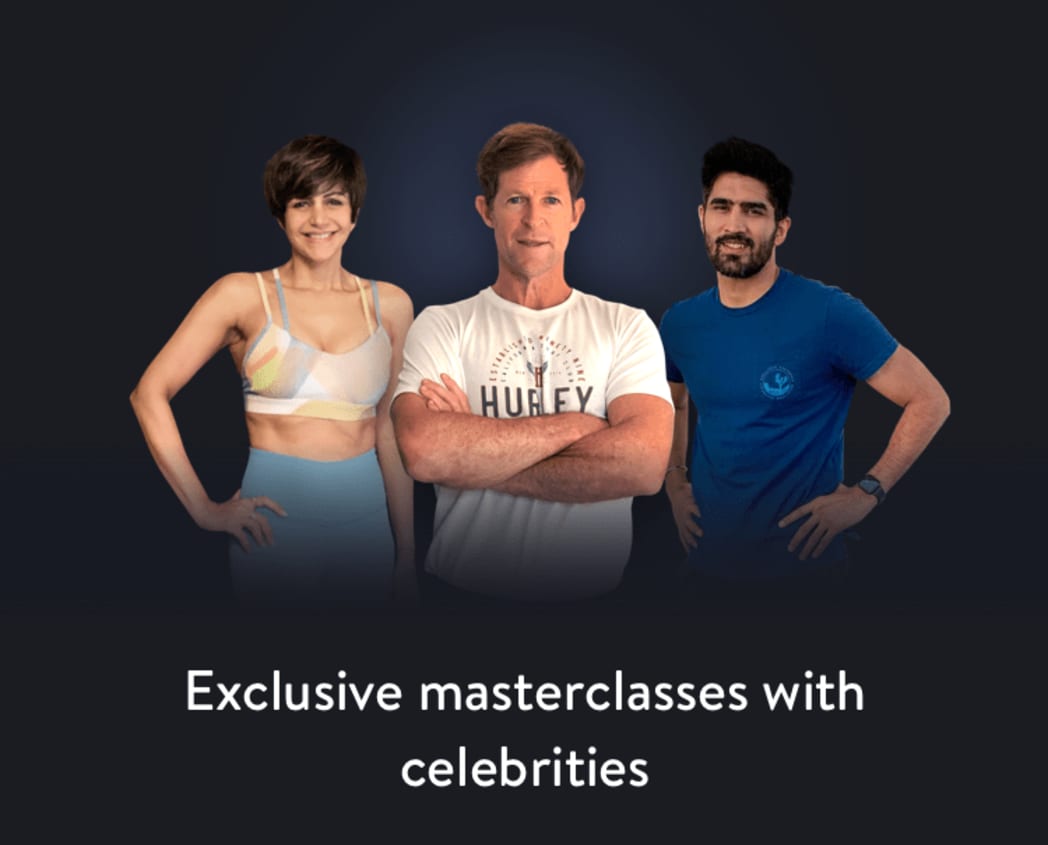 cure.fit live
MEMBERSHIP
STARTS AT 249/MONTH
Belly Burn
These guided workouts include bodyweight exercises that will strengthen the midsection, burn belly fat and help improve your overall fitness.
6 Packs
Weight Loss
This series is focussed on high intensity workouts that will help you burn those calories and provide a lean look. The packs here are designed to be scalable.
5 Packs
Strength for Seniors
A pack for senior members within the family - these sessions contain basic body weight exercises to keep the body fit. Ideal for people aged 50 and above or for beginners to strength training.
1 Pack
Yoga for Beginners
This Yoga For Beginner's Pack is just what you need to ignite your passion for yoga! Whether you are a complete beginner, or have tried yoga in the past and are ready to really get going, these 5 sessions in this pack will show you the way. This course is designed for the complete beginner, so there's no need to be wary if you have no previous yoga experience.
1 Pack
Get Lean
These workout videos include Cardio as well as Strength Training exercises that will help enhance upper body and lower body strength.
6 Packs
Beginners
Get started with fitness! These guided workouts aim at helping you start exercising daily with very simple and easy-to-do exercises.
4 Packs
Get Strong
These guided workout video include bodyweight exercises that will strengthen the abdomen and midsection and enhance upper body and lower body strength.
3 Packs
Arms, Chest and Back
Arms, Chest and Back muscles play a crucial role in everyday life. These workouts will help you build strong chest and back muscles along with toned arms and shoulders.
4 Packs
Abs, Butt and Thigh
These workouts will help strengthen the Abs, Butt and Thigh and Enhance Cardiovascular Endurance, along with working out all the other major muscle groups and parts of the body.
4 Packs
Yoga for Flexibility
The yoga poses you will practice in this pack will help you lengthen and stretch your muscles throughout the body in a safe and effective way. Do these sessions regularly to see improvements.
2 Packs
Learn to Exercise
Learn to Exercise is a pack dedicated to all the users who want to start their fitness journey.
1 Pack
Get Your Full Splits
Workouts focused on improving flexibility of the lower body as well as mobility and balance of the entire body.
1 Pack
6 Pack Abs
Essential workouts for a strong core with a focus on abs muscles. Core exercises strengthen your abs and other core muscles for better balance.
1 Pack
Yoga for Weight Loss
The sessions in this pack will consist of Vinyasa Practises in which postures are performed one after the other in a smooth continuous motion. It might seem challenging at first, but please take it at your own pace and allow the body to adapt over a few classes. Vinyasa Yoga builds heat in the body and improves strength and stamina which leads to weight loss, when practiced regularly. These sessions have been created by Lara Saluja.
1 Pack
Cult Junior
Workouts curated specially for the junior members of the cult family. These workouts will focus on all parts of the body for the kids. Each workout is around 17 minute long with warm up, main workout, cooldown and stretching.
1 Pack
Mobility
These mobility workouts will help increase your body's range of motion and bring down overall stiffness of the body.
6 Packs
Move Well
A series dedicated improving mobility and flexibility of the entire body.
1 Pack
Everyday Morning Practice
This pack is a combination of 6 unique Morning Yoga practice sessions to help you start your day! Stretch and strengthen! Bring energy to the body and rejuvenate the nervous system!
1 Pack
Yoga for Tight Neck and Shoulders
We spend hours in front of our computers and phones, and the repetitive movement patterns can cause neck and shoulder strain. The four sessions in this pack will take you through a Healing Yoga Sequence to Ease Neck + Shoulder Pain
1 Pack
Stretch and Release
We tend to hold a lot of stress and tension in our bodies and in these sessions we target specific muscle groups and focus on just deep long stretches for 15 mins, which will help us relax and recover.
1 Pack
Yoga for Digestion & Gut Health
This is a relevant pack in today's day and age where our food and sleep habits are erratic and they hence have a deep impact on our digestive and gut health. We all now know that our gut health affects our mood, weight, metabolism, hormones and overall health. We have 6 half hour sessions in this pack, so whether you have been enjoying eating rich foods, or been eating erratically - These sessions will aid in digestion and reset your system. Please do ensure you have eaten your last heavy meal 3 hours before doing this practice.
1 Pack
Build Your Stamina
Learn the ability to sustain prolonged physical or mental effort. build your stamina to push yourself, challenge yourself and eventually change yourself.
1 Pack
Healthy Spine
This spinal column provides the main support for your body, allowing you to stand, bend, and twist. It also protects the spinal cord from injury. Strong muscles are major contributor to a healthy spine. These exercises focus on strengthening and maintaining the muscles that contribute to a healthy spine.
1 Pack
Kids Yoga
Join Anishka as she takes kids between ages 5 to 10 year olds on a beautiful journey, introducing them to the practice of Yoga in a fun and engaging manner. Each session is about half an hour, Do pick the session appropriate for your child as per their age.
2 Packs
Yoga for Lower Back Pain
If you're dealing with lower back pain, yoga may be just what the doctor ordered. Yoga is a mind-body therapy that's often recommended to treat not only back pain but the stress that accompanies it. Practicing yoga for even a half hour a day can help you gain more awareness of your body. This will help you notice where you're holding tension and where you have imbalances. You can use this awareness to bring yourself into balance and alignment.
1 Pack
Learn Handstand Push-ups
In free-standing handstand push-ups, the core muscles and hand muscles are both used to keep the body balanced, from falling over back, forward, or to either side, and to maintain posture. This makes it a much stronger exercise for the wrist flexors, core and legs compared to regular push-ups.
1 Pack
Everyday Bedtime Yoga
The 6 gentle half hour sessions in this pack are designed as your everyday go to practice just before bedtime. It is a great remedy for those who struggle to fall asleep or are holding on to stress, anxiety or tension in the mind or body. All 6 sessions in the pack will help prepare you for a good night's rest. Alternatively you can also just use this as a simple restorative practice to improve any imbalance in the body or mind.
1 Pack
All About Arm Balances
This pack will help you move past fear, build better balance, strengthen your arm and core muscles and learn and practice arm balancing poses.
1 Pack
Strength and Conditioning
These workouts includes body weight movements that will help build strength and stamina and increases endurance.
3 Packs
Yoga for Relaxation and Stress Relief
A series which will guide you through asana, pranayama and savasana addressing the body, mind and breath
1 Pack
Get Your Pistol Squats
Workouts focused on improving the strength and toning of the lower body. Pistol squats test the strength of your core, stabilizing muscles and the entire leg from glutes to ankles.
1 Pack
Yoga - Strength
This hatha yoga series will focus on enhancing physical strength required for everyday activities.
4 Packs
HRX
Created by Cult.Fit and Hrithik Roshan's HRX Team, these guided workouts include exercises that focus on specific muscle groups and will address your calorie burning goals.
1 Pack
Surya Namaskar
Surya Namaskar is a very popular yoga practice. This videos introduces us to the concept of Surya Namaskar and its benefits, It also illustrates the many different kinds of Surya Namaskar practiced in various traditions.
1 Pack
Fitness for Teenagers
Workouts for teenagers - ideal for youngsters looking to get strong or lose weight
1 Pack
Why Cult At Home
Four reasons you should try our At Home workouts
BE SPIRITED
FEARLESS
AN EVERYDAY ATHLETE
Start your fitness journey at Cult.fit
If you're looking for a gym near you that offers more than just traditional machines to exercise with, choose to workout at Cult.fit. A fitness studio that gives you an opportunity to learn new fitness formats and reach your fitness goals, all while having fun. Each workout session defines a perfect structure, which involves a warmup, a balanced full body workout and a cool down, to ensure you get fit the right way.
Looking for motivation? We've got tons of it.
At Cult, the group workout formats are a great source of motivation.It helps you build camaraderie between you and the other participants while also breaking the workout plateaus. And that's not all, training in a group can ensure a higher endorphin output and even improve performance
Dance your way to fitness
If you want to get in shape but lifting weights or running on a treadmill doesn't excite you, try Zumba or Dance fitness at Cult. it is a fun way to help you burn calories while you have fun. And if you don't want your training session to be all dance, you'll love our Prowl classes, a combination of dance, combat and functional fitness done to foot-tapping music designed to give you a full-body workout.
Improve strength and agility with functional training
Fill your day with energy and perform at your peak with functional training at Cult. With group classes like Strength and Conditioning and HRX, you will improve your overall body flexibility, core strength and stamina and you'll find that reaching your fitness goal will be easier than ever.
Train like an athlete
If the world is your playground, then we've got some indoor & outdoor sports to help you stay fit. Whether you're looking to develop a new skill or improve your technique, with Football, Boxing and Sports Conditioning, Cult.fit gives you that opportunity. Learn the skills and master it with our trainers at Cult.
Train anywhere
At Cult.fit, our fitness packs gives you the freedom to work out at any of our centers across the city. All you have to do is fire up the cure.fit app, choose a fitness center near you and book your favourite class.
World class trainers
When you choose Cult.fit, you can be sure you'll get to train with certified, world class trainers that have the knowledge, skills and willingness to help you be your best self. Whether your fitness goal is weight-loss or just physical fitness, you can count on our trainers to be dedicated to helping you achieve it.
The playground
Come train in our top-class spacious centers built to perfection with industrial interiors that'll make working out an experience you're going to love for a long, long time.
Get fit at home
We live in a busy world and you may not always find the time to visit a gym near you. We understand! Which is why our Do-it-Yourself workout videos are the perfect way to get fit at home. Our videos are designed with different intensity levels so you can always pick the pack that best addresses your fitness goals. And the best part? It's completely FREE to use.
Begin your journey to weight loss or fitness at Cult.fit, unlike your traditional gym workout, your experience at Cult.fit will be one that includes effective exercises and training sessions. And that's not all, you can even get some health tips and nutritional advice from the experienced doctors at our care.fit center.