Home >
 eat.fit >
  subscriptions
All Stars Veg
Want something new every day? Make way for the All Stars! Curated by our chef from across the menu, you can go from an Indian thali one day to a gourmet Buddha Bowl the next. What's more? You also have an unlimited option to swap between your All Star meals for free.
Offers applied
Flat 50% Off on All Stars Monthly Subscriptions
T&C
₹750 Flipkart Gift Voucher on monthly subscriptions order above 2500 excluding packaging charges. Receivable in 7-10 days from subscription start date.
T&C

Meals are delivered every day at the chosen address and time

Change meals for free only with our All Star subscription. No additional charges or refunds on changing meals. HRX meals are excluded
Full flexibility to change delivery address, time and even cancel meals at any time

Get a full refund for any meals you cancel. Refunds are credited to your account at the end of the cycle or adjusted against your next billing cycle

You can auto-renew subscriptions and get the best price per meal. Subscriptions renew on the same day of every week/month from the start date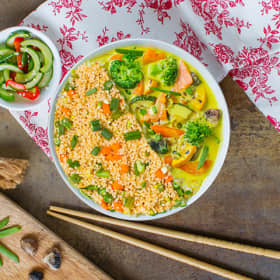 Wed, 16 Oct
Asian Veg Curry & Wok-Tossed Millet
Treat yourself to a flavourful Asian curry made with zucchini, mushrooms, baby corn, carrots, beans, bell peppers and onions. The coconut-based curry is paired with a high-fibre Foxtail millet tossed up with carrots, beans and spring onion. - High-fibre Foxtail millet - No added cornstarch - Immunity-boosting vegetables - Good fats from coconut and peanut Served with the superfood of the day. Allergen information: Contains mushrooms, soy and nuts. Traces of mushroom and celery.
Try for ₹99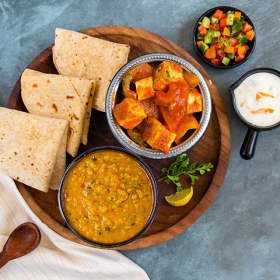 Thu, 17 Oct
Kadai Paneer, Dal Tadka & Rotis
Savour this winning combination of protein-packed kadai paneer tossed with capsicum and enriched with a cashew base. It's paired with our homestyle dal made using 4 different kinds of lentils. Enjoy this delicious duo with some nutritious rotis, a refreshing salad and tummy-cooling raita. - 100% whole wheat rotis - High-protein paneer and dal - No-butter, no-cream recipes - Low-fat yogurt raita Served with the superfood of the day. Allergen Information: Contains gluten, nuts and dairy. *Salad and raita may vary from those pictured. Also, nutrition values may vary slightly based on the salad and raita of the day.
Fri, 18 Oct
Lucknowi Veg Biryani
Indulge in your love for biryani with eat.fit. Dig into our Lucknowi veg biryani that's the perfect balance of spices and flavours. Made with a medley of vegetables like carrots and beans , the white rice biryani is finished off with some protein-packed paneer and caramelised onions. It's served with traditional sides like salan and raita. - Made with high-quality Basmati rice - No butter, no ghee recipe - Paneer rich in protein and good fats - Fibre-rich vegetables - Low-fat yogurt raita Served with the superfood of the day. Allergen information: Contains dairy and nuts. *Serves 1. Raita and salan not included in nutritional values.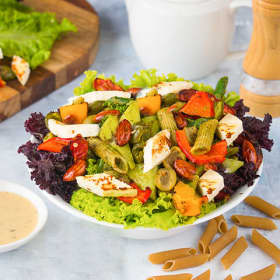 Sat, 19 Oct
Weight Wise: Grilled Paneer Pasta Salad
Packed with muscle building protein, this salad is a great option for when you're trying to get in shape. It comes with spice-grilled paneer, roasted tomatoes, cucumbers, bell peppers, almonds and olives, on a bed of creamy pesto whole-wheat penne pasta. We're serving it with a herb citrus vinaigrette *dressing (use at your discretion). - Protein-rich grilled paneer - High-fibre vegetables - 100% whole wheat pasta - Tossed with superfoods almonds and pumpkin seeds Served with the superfood of the day. Allergen Information: The salad contains nuts, seeds, gluten and dairy. The dressing contains mustard. Dressing Calories (not included): 83 cals; The salad is served cold.
Sun, 20 Oct
Fit Thali
Make way for this one-fit wonder! With your favourites packed in one meal, our Fit Thalis take deciding what to eat off your plate. Move over boring dal, sabzi; Coming up are fibre-packed rotis with eat.fit's best-selling paneer khatta pyaaz enveloped in a sweet-and-spicy gravy. It's served with an innovative no-cream dal makhni that has the same taste and richness as the original, minus the unnecessary guilt! Enjoy this meal with the salad of the day. - Paneer, fit for your protein needs - Slim milk dal makhni, fit for your caloric intake - Fibre-rich rotis, fit for your digestive health - 2 eat.fit bestsellers in one meal, fit for your tastebuds Allergen Information: Contains gluten, dairy and nuts.