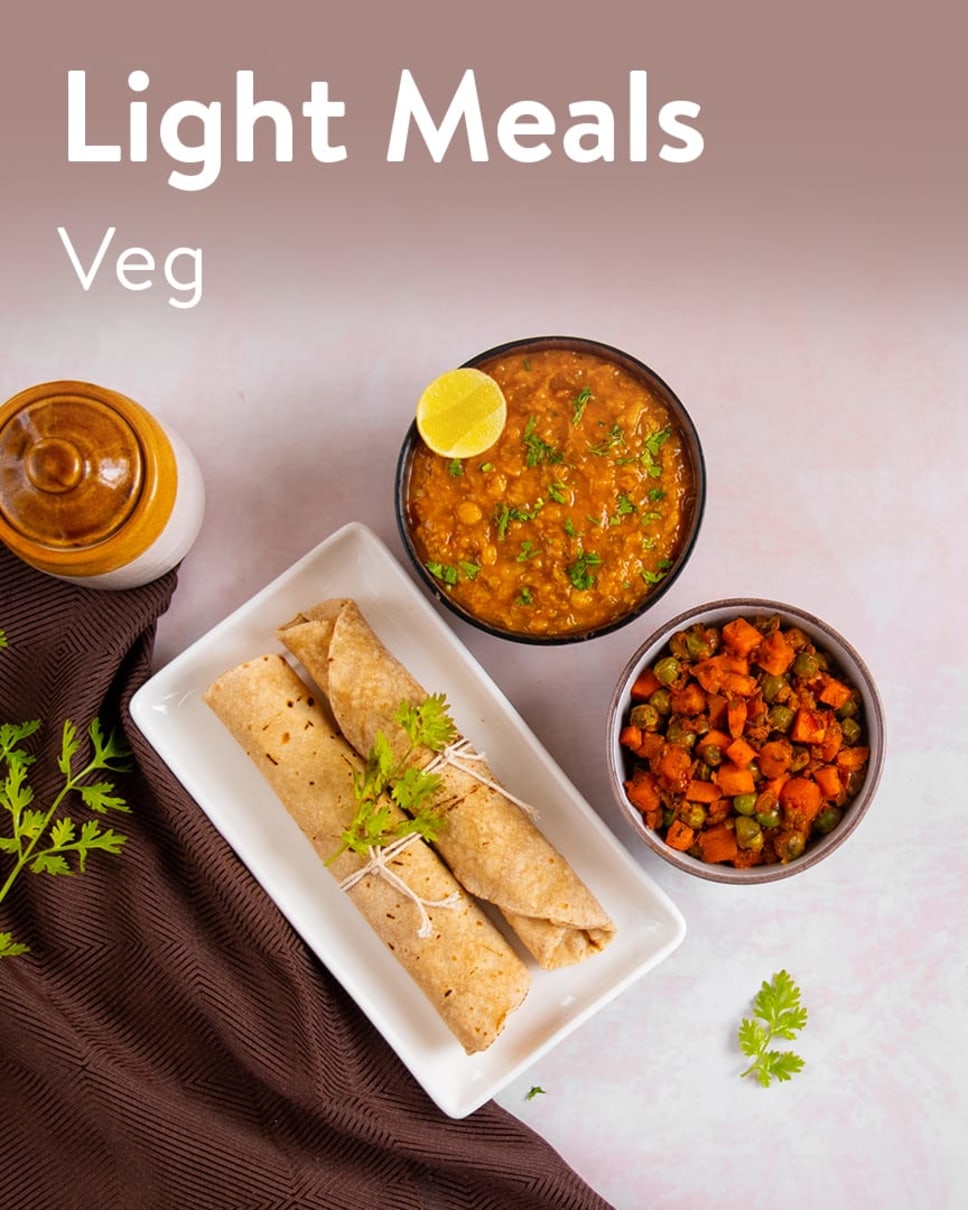 Home >
 eat.fit >
  subscriptions
Light Meals Veg
Light on the tummy, our nutritious 2-roti meals are served up with 100% whole wheat rotis, fibre-packed sabzi and a high-protein curry or dal. Mild in-house masalas and less oil ensure that you don't feel bloated.
Offers applied
Flat 35% Off on Monthly Subscriptions
T&C

Meals are delivered every day at the chosen address and time

Full flexibility to change meals, delivery address, time and even cancel meals for the day

Get a full refund for any meals you cancel. Refunds are credited to your account at the end of the cycle or adjusted against your next billing cycle

You can auto-renew subscriptions and get the best price per meal. Subscriptions renew on the same day of every week/month from the start date
Upcoming meals
Sat & Sun meals will not be delivered if deliver on weekends is off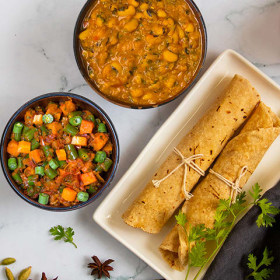 Tue, 7 Jul
Light: 2 Rotis, Gajar Beans & Lobia Dal
This Gajar Beans sabzi is made to impress with a garnish of julienne ginger and a home style mix of spices. Served with an easy-on-the-tummy lobia dal, you can scoop up this winning combination with some nutritious rotis. Allergen Information: Contains nuts, mustard seeds & gluten.
Try for ₹99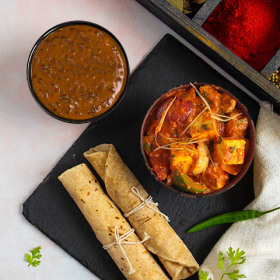 Wed, 8 Jul
Light: 2 Rotis, Kadai Paneer, Dal Makhani
Make way for this one-fit wonder! With your favourites packed in one meal, our Lighter versions of Fit Thalis take deciding what to eat off your plate. Move over boring dal, sabzi; Coming up are fibre-packed 2 rotis with eat.fit's lip smacking Kadhai Paneer that has high-protein paneer pieces tossed through onions and capsicum. It's served with an innovative no-cream dal makhni that has the same taste and richness as the original, minus the unnecessary guilt! Allergen Information: Contains gluten, dairy and nuts.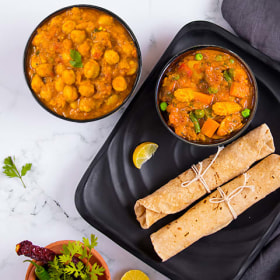 Thu, 9 Jul
Light: 2 Rotis, Mix Veg Curry & Punjabi Chole
On the menu today is a homestyle mix veg curry that's packed with high-fibre haricot beans, carrots, cauliflower, capsicum and babycorn. It's been paired with protein-rich Punjabi chole flavoured with anar dana and amchur for a tangy kick. Enjoy this delicious duo with some high-fibre rotis. Allergen Information: Contains gluten and nuts.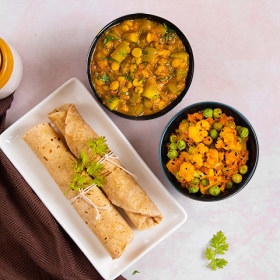 Fri, 10 Jul
Light: 2 Rotis, Gobi Matar Masala, Lauki Chana Dal
Ready for a homely meal? It doesn't get better than our high-fibre and vitamin rich gobi mattar masala flavoured with kalonji (onion seeds). The sabzi is paired with our low-cal lauki chana dal that's light on the stomach and easy to digest. Scoop up this delicious duo with nutritious rotis. - 100% whole wheat rotis - Protein-rich dal - Low-cal lauki - Fibre and vitamins-rich gobi Served with the superfood of the day. Allergen Information: Contains dairy, seeds and gluten.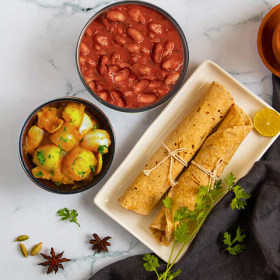 Sat, 11 Jul
Light: 2 Rotis, Ghar ka Rajma & Aloo Pyaaz
Indulge in some wholesome goodness with everyone's favourite rajma served with an aloo pyaaz sabzi, both cooked in homestyle spices. We've packed fibre-rich whole wheat rotis, raita and salad of the day to go along with your meal. Allergen Information: Contains gluten.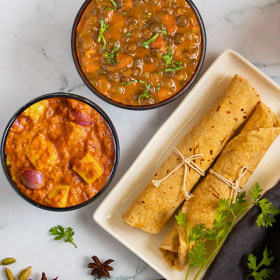 Sun, 12 Jul
Light: 2 Rotis, Paneer Khatta Pyaaz & Masoor Dal
Everyone loves this eat.fit bestseller! Our paneer khatta pyaaz has delicious cubes of paneer enveloped by a sweet and spicy gravy that's got a base of honey, chillies, onion-tomato, beetroot and cashews. In this meal, it's paired with a sabut masoor dal that's flavoured using homestyle spices. Scoop up the winning combination with 2 high-fibre rotis. Allergen Information: Contains dairy, gluten and nuts.