Home >
 eat.fit >
  subscriptions
Fit Curries Combo Veg
Bored of roti-sabzi? Try our perfect one-bowl meals combo featuring all-time classics like rajma, paneer and chole gravy served with high-fibre basmati rice alongside sabzi and interestingly tasty juices and dessert.
Offers applied
Flat 40% Off on Combo Monthly Subscriptions
T&C

Meals are delivered every day at the chosen address and time

Full flexibility to change meals, delivery address, time and even cancel meals for the day

Get a full refund for any meals you cancel. Refunds are credited to your account at the end of the cycle or adjusted against your next billing cycle
You can auto-renew subscriptions and get the best price per meal. Subscriptions renew on the same day of every week/month from the start date
Upcoming meals
Sat & Sun meals will not be delivered if deliver on weekends is off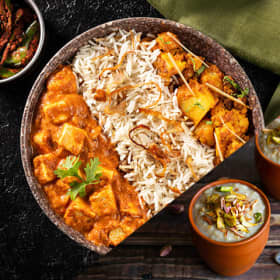 Mon, 30 Nov
Butter Paneer, Aloo Gobhi, Jeera Pulao & Pista Kheer
Can you resist the irresistible goodness of not one, not two but four awesome dishes? This super bowl combo brings the best of all worlds together with its wholesome portion of jeera pulao, generous serving of our succulent and creamy butter paneer and a handsome portion of the humbly heroic aloo gobhi adraki! Served along with delicious pista kheer, this one's an absolute delight for your stomach and for your taste buds alike! Allergen information: Vinegar, nut, seed, dairy
Try for ₹149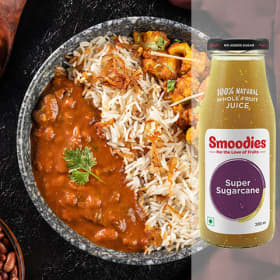 Tue, 1 Dec
Ghar ke Rajma, Aloo Gobhi, Jeera Pulao & Super Sugarcane
What's better than a rice bowl? A rajma rice bowl combo! Indulge in the wholesomeness and happiness of the all-appreciated rajma that's served with our gingery-good aloo gobhi and jeera pulao in this rice bowl. Made more relishable with refreshing sugarcane juice, this one is sure to get 'em fuzzy feelings rising in your stomach!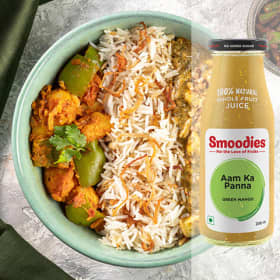 Wed, 2 Dec
Lasooni Paneer, Shimla Aloo, Jeera Pulao & Aam ka Panna
Looking for some garlicky goodness combo? Indulge in some with this delicious mix of our lasooni methi paneer - an iconic combination of spinach and cottage cheese tossed in garlic, simply fantastic Shimla aloo mirch and aromatic jeera pulao! Served with digestive Aam ka panna, this one's a treat that breaks the boring-flavours-rut and is also good for your gut! Allergen information: Dairy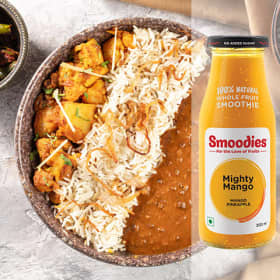 Thu, 3 Dec
Dal Makhani, Aloo Gobhi, Jeera Pulao & Mighty Mango
Rice bowls got even more interesting and Indianised with this combo! This bowl of creamy dal makhani, humble aloo gobhi adraki and comforting jeera pulao is packed with the goodness of nutrition and taste alike. Served alongside magnifiecient mango and pineapple medley, this bowl of ghar wala khana is something you can always relish! Allergen information: Dairy, nuts, seeds, pineapple.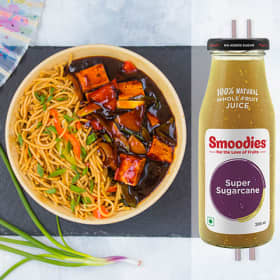 Fri, 4 Dec
Chilli Paneer Whole Wheat Hakka Noodles & Super Sugarcane
A bowl full of goodness, some dry chilli paneer laid atop traditional veg hakka noodles is just what you need today! With 100% whole wheat noodles tossed with high-fibre carrots, cabbage and spring onion, you can enjoy your favourite one-bowl meal guilt-free alongwith nature's refreshing sugarcane juice Allergen Information: Contains gluten, dairy, soy sauce. Traces of mushroom and celery.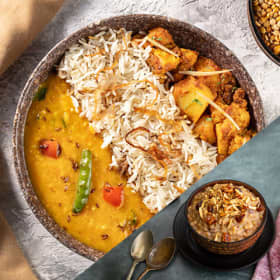 Sat, 5 Dec
Yellow Dal, Shimla Aloo, Jeera Pulao & Nutty Dates Pudding
Scintillating with Indian flavours, this bowl of goodness combo comes with our homestyle yellow dal tadka, the much beloved shimla aloo mirch laid over a fulfilling portion of jeera pulao. Served with vegan nutty dates pudding, this one is an all-time, any-time meal that you can always depend on to lift your spirits and of course, to satisfy your hunger! Allergen information: Gluten, nuts.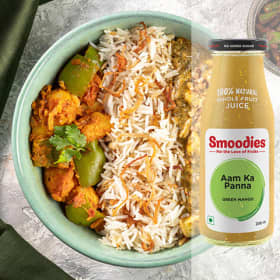 Sun, 6 Dec
Lasooni Paneer, Shimla Aloo, Jeera Pulao & Aam ka Panna
Looking for some garlicky goodness combo? Indulge in some with this delicious mix of our lasooni methi paneer - an iconic combination of spinach and cottage cheese tossed in garlic, simply fantastic Shimla aloo mirch and aromatic jeera pulao! Served with digestive Aam ka panna, this one's a treat that breaks the boring-flavours-rut and is also good for your gut! Allergen information: Dairy