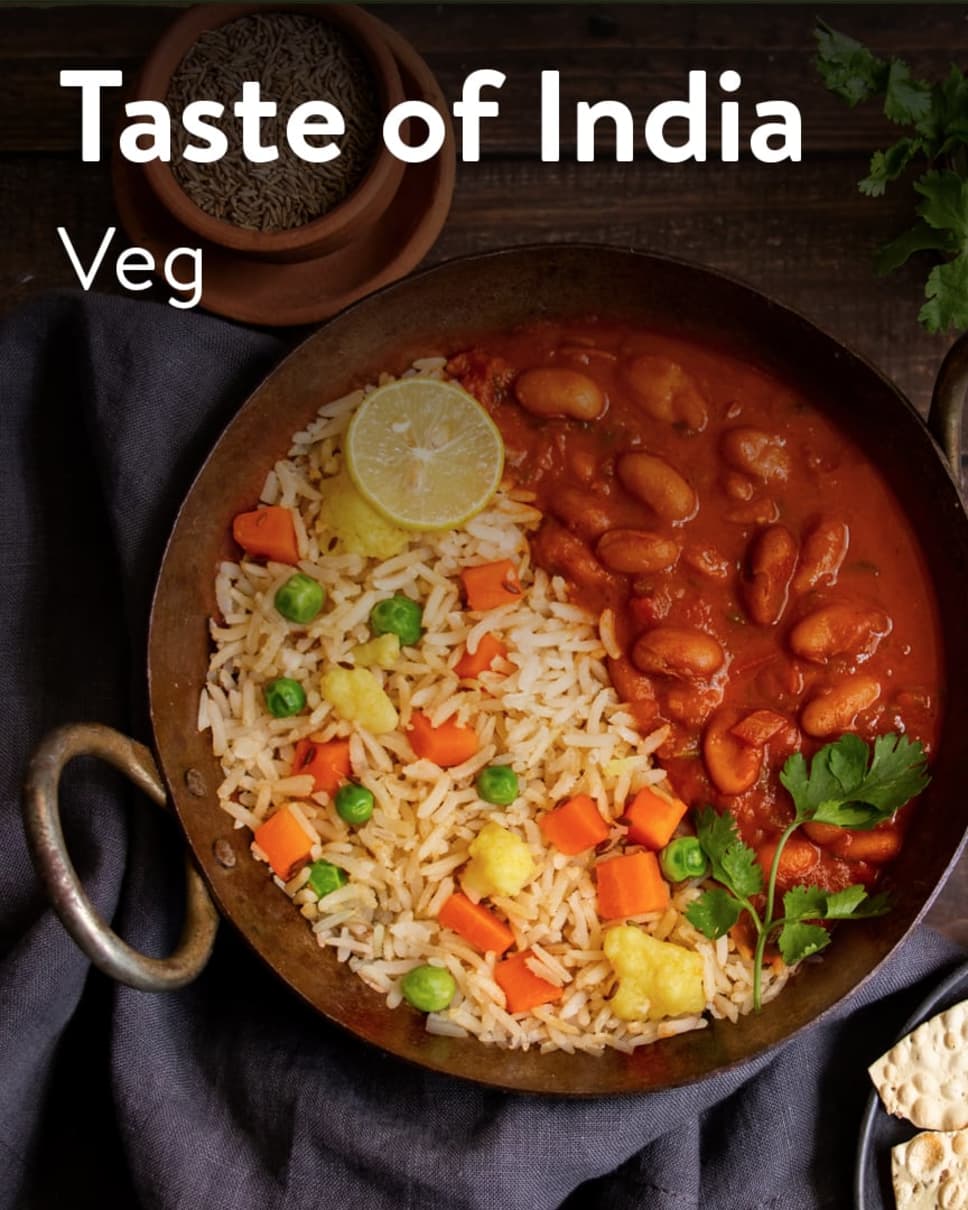 Home >
 eat.fit >
  subscriptions
Taste of India Veg
A country with its sumptuous mix of traditions, India comes with a different taste across its culture and diversity. Regionally distinct recipes and a burst of mind-boggling flavours, here's an India inspired meal plan by eat.fit, your very own Taste of India
Offers applied
Flat 30% Off on Monthly Subscriptions
T&C

Meals are delivered every day at the chosen address and time

Full flexibility to change meals, delivery address, time and even cancel meals for the day

Get a full refund for any meals you cancel. Refunds are credited to your account at the end of the cycle or adjusted against your next billing cycle
You can auto-renew subscriptions and get the best price per meal. Subscriptions renew on the same day of every week/month from the start date
Upcoming meals
Sat & Sun meals will not be delivered if deliver on weekends is off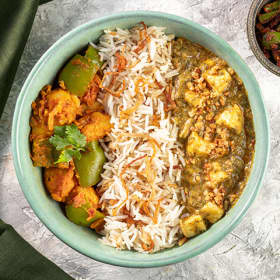 Sat, 5 Dec
Lasooni Methi Paneer, Shimla Aloo & Jeera Pulao
Looking for some garlicky goodness? Indulge in some with this delicious combination of our lasooni methi paneer - an iconic combination of spinach and cottage cheese tossed in garlic, simply fantastic Shimla aloo mirch and aromatic jeera pulao! Served with pickle of the day, this one's a treat that breaks the boring-flavours-rut and is also good for your gut! Allergen information: Dairy
Try for ₹119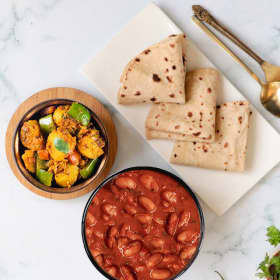 Sun, 6 Dec
Ghar ke Rajma, Shimla Aloo Mirch, Roti Thali
A simple yet delectable thali is here to take you back to nostalgia. Good 'ol ghar ke rajma is served alongwith Shimla aloo mirch and soft whole wheat rotis. Enjoy to the fullest. Served with pickle of the day. Allergen information: Gluten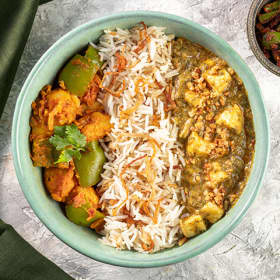 Mon, 7 Dec
Lasooni Methi Paneer, Shimla Aloo & Jeera Pulao
Looking for some garlicky goodness? Indulge in some with this delicious combination of our lasooni methi paneer - an iconic combination of spinach and cottage cheese tossed in garlic, simply fantastic Shimla aloo mirch and aromatic jeera pulao! Served with pickle of the day, this one's a treat that breaks the boring-flavours-rut and is also good for your gut! Allergen information: Dairy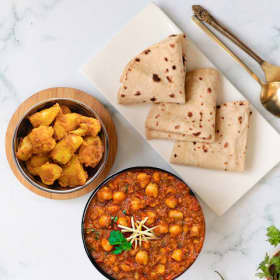 Tue, 8 Dec
Pindi Chole, Aloo Gobhi Adraki, Roti Thali
Packed with protein, the tangy, spicy, juicy mix of pindi chole flavoured with anardana, amchur has been paired with aloo gobhi with a gingerly twist and soft whole wheat rotis. Sit back, relax and savour this comforting meal. Served with pickle of the day Allergen information: Gluten.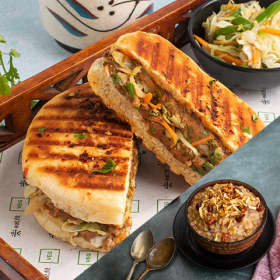 Wed, 9 Dec
Creamy Dal Kulcha Burger & Nutty Dates Pudding
Dal makhani and kulcha in a new avatar! Yes, relish the authentic Indian taste as you bite into the layers of eat fit's innovative dal makhani kukcha burger. Whole wheat kulcha layered with creamy delicious dal makhani, crunchy sauteed veggies is a definate grab on that takes you to a new level of experience along with nutty dates pudding. Allergen information: Gluten, soy, dairy, vinegar, nuts.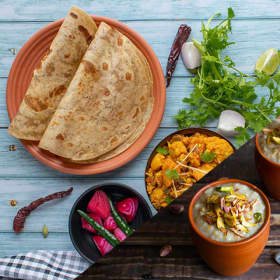 Thu, 10 Dec
Aloo Gobhi, 2 Paratha Thali & Pista Kheer
This thali is a combination of delicious aloo gobhi adraki sabzi, soft whole wheat parathas, a portion of cucumber carrot salad and sirka onions for crunchy bite. Enjoy this meal that's light on your tummy with satiety along with yummy pista kheer. Allergen Information: Contains gluten, dairy, nuts, seeds.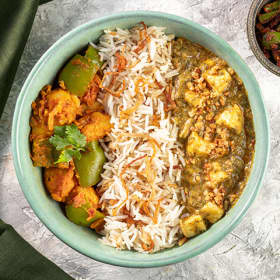 Fri, 11 Dec
Lasooni Methi Paneer, Shimla Aloo & Jeera Pulao
Looking for some garlicky goodness? Indulge in some with this delicious combination of our lasooni methi paneer - an iconic combination of spinach and cottage cheese tossed in garlic, simply fantastic Shimla aloo mirch and aromatic jeera pulao! Served with pickle of the day, this one's a treat that breaks the boring-flavours-rut and is also good for your gut! Allergen information: Dairy