How to make Bread Crumbs
Of the millions of ingredients used in kitchens across the world today, you would probably come across very few of them that are as versatile and widely used as breadcrumbs. They are used as toppings in a wide range of dishes from desserts to soups and also to give fried food items a crispier outer coating. Knowing How to make Bread Crumbs is, therefore, an essential and easy skill that every cook ... would greatly benefit from. The origins of bread are almost as old as historical records themselves as flatbread samples have been found at sites dating back to the Stone Age, from over twelve to fourteen thousand years ago. Somewhere down the line, humans figured out that this bread could be broken down into a fine mixture and used in a variety of food items. You can learn How to make Bread Crumbs at Home in less than five minutes. Bread is an excellent source of carbohydrates and therefore ensures limitless possibilities in terms of incorporating bread crumbs into a meal. Bread crumbs especially toasted slightly, make for an excellent topping for soups, pasta and even salads. Thanks to the crunchy and delicious texture it adds to every dish, it is sure to be a hit among kids.
Nutrition Info. (per serving)
Ingredients
Bakery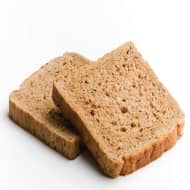 Directions
1
Take fresh brown bread slices, roughly cut it into chunks.
2
In a blender jar, add bread slices and pulse grind it to get a coarse texture.
3
Scrape the sides if required, blend until you get the desired breadcrumb texture.
4
Transfer it to an airtight container, and use as required. Store it in the fridge.
Success!
We hope you had fun making it! Enjoy the meal.