How to make curd
One of the healthiest and tastiest dairy products, curd, popularly known in India as Dahi, is pretty much a staple food that is either accompanied with several dishes or used in the making of full-fledged recipes. Curd is one of the easiest milk recipes to be made, and all you need is a small amount of curd, which has to be added to well-boiled milk, to make thick, delicious curd. Curd can be eate ... n along with rice as a main course, or it can be used to make sides like raita. It can also be used to make a popular dish known as lassi, which is sweet, or its salty counterpart, buttermilk. Curd is consumed all over the world, but in most Indian households, people prefer to make their own dahi or curd from scratch. This is because when you make it at home yourself, you do not have to deal with unwanted preservatives or chemicals. Curd that is made from the confines of your home is much healthier, thicker, tastier, and most importantly, fresher. There is some very simple science associated with the making of curd. A small bit of curd, known as the starter or in India, as khatta or Jamun, is the main product that turns milk into curd. You can use old (but not spoilt) curd for this. When this starter is added to freshly boiled milk and left to sit for six to eight hours, healthy bacteria from the starter curd begins to ferment the milk. You need to always make sure that once the curd has been formed, it has to be stored in the refrigerator. However, while the curd is being fermented, it must be stored in a cool, dry place.
Nutrition Info. (per serving)
Ingredients
Dry Grocery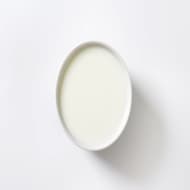 Dairy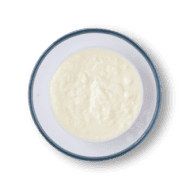 Directions
1
Take milk on a saucepan, bring it to a boil on a medium flame.
2
To get thick curd, once it comes to a boil simmer the milk for 15 min on a very low flame. Keep stirring in between, the milk might get burnt and smell bad. Once the milk is boiled, let it cool down a bit to a warm stage.
3
Transfer the milk to a container, add the curd and stir it.Cover the container and keep it in a warm place. Allow it to set for 6-8 hrs or overnight.
4
When the curd is set, move it to the refrigerator. Use as required.
Success!
We hope you had fun making it! Enjoy the meal.