How to make sprouts
Everyone knows sprouts are healthy to eat. By germinating the beans, grams or seeds, sprouts are made. This enhances their nutritional values. Sprout is a healthy Indian dish which can be eaten in breakfast or as an evening snack, though most prefer to have sprouts in their salad. Sprouts also make a healthy option for lunch meals for office goers. Even kids eat sprouts in their salads as protein ... in sprouts is good for their growth. Most people wonder how to make sprouts at home as home-made sprouts are better in nutritional content, clean and healthier. Sprouts are easy to grow indoors and don't require any special equipment or process. Home-grown sprouts are also better as we have control on the quality of beans or seeds used and they are always fresh. Nutritionists recommend having sprouts daily for their various health benefits including better metabolism and weight loss. The Sprouts protein content is high, so it is preferred by weight-conscious people and people on weight management. One can also go for organic beans and lentils to get the best benefits of sprouts. Sprouts can be made from many seeds, grams and beans, though most people prefer moong sprouts or chana sprouts. Moong sprouts nutrition is high, so it is the most popular type of sprout. They are eaten raw or boiled with other raw vegetables or can be made into soups or other green moong recipes. Sprouts are so popular that even at parties or marriage functions, there are options of sprout salads.
Nutrition Info. (per serving)
Ingredients
Dry Grocery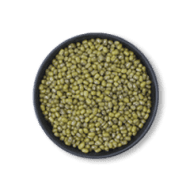 Green Moong Whole
0.5 cups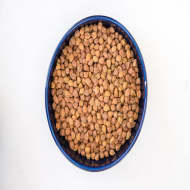 Chana Brown Small/kala Channa
0.5 cups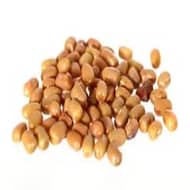 Directions
1
Wash and soak all the three lentils separately for 12 hours or overnight. Drain all water the next day from the soaked lentils and wash each soaked variant individually. Take three kitchen towels or any other cotton cloth. Spread each cloth over a bowl. Place each soaked lentil in its respective cloth.
2
Tie the knot and tighten the cloth and keep it in the bowl in a dim corner overnight or for a minimum of 12 hours. Do not cover the bowl
3
Sprinkle some water on the kitchen towel to make it a little damp. Do so every 12 hours. After a day the green moong and moth beans would have sprouted. The Kala chana might require a few hours more.
4
Once sprouted, wash the lentils. Store refrigerated in containers upto 3 days.
Success!
We hope you had fun making it! Enjoy the meal.